Budget race series entrant previews possible hot-hatch look for Kia's Rio supermini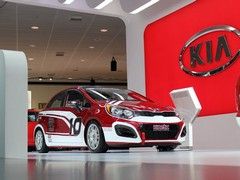 Kia Rio racer hints at hot hatch potential
It seems Americans are finally waking up to the idea of hot hatches, a new B-spec cut-price race series for close to stock superminis attracting the likes of Mini, Honda, Ford, Mazda, Fiat and now Kia into the fold. Engines remain standard with restrictors and ballast to even out any performance imbalance and teams are restricted to one set of springs to suit all the tracks the series will race on in one example of the focus on keeping costs down. Pro drivers are banned and the series is very much aimed at privateers buying off-the-shelf racecars like this Rio.
And while there's no sign yet of any hot Kias coming our way in the UK this B-spec racer prepped by Stateside Kia race squad Kinetic - think the Koreans' equivalent of Mugen - suggests it might want to address that sooner rather than later.
138hp doesn't sound like a whole lot but stripped, caged, lowered and running on sticky rubber just tell us this doesn't look like a whole lot of fun. The first truly PH-worthy Kia? Could be.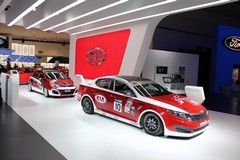 Optima hybrid built for safety car duty
This isn't the only hot Kia here at the LA show though, Kinetic also revealing an Optima saloon prepped for safety car duty in the US touring car championship. It's also worked on a Forte coupe - the US market pro_cee'd - underlining the seriousness with which this officially funded programme is taken. Kia's global HQ and European arm are apparently watching with interest, suggesting hot Kias might not be too far away.